Research Methods and Empathy Interviews
Empathy is at the center of the design thinking process. Through empathy, we have the ability to understand others and use that understanding to drive our actions and solutions. Empathy helps us gain insight into people's choices and perspectives, to understand their priorities barriers, beliefs, behaviors, and motivations. Empathy interviews are points of collaboration between researchers and their stakeholders.
What This Means for Social Justice & Designers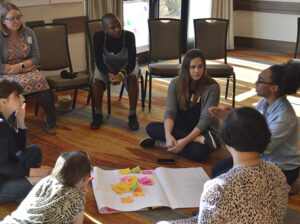 Social Justice Activists
Social justice folks often try to understand others' perspectives, and empathy interviews are a way folks can transform this understanding into ideas. Conducting empathy interviews is essential in engaging the researcher more deeply as it brings curiosity, openness, and a deeper understanding of the problem.
Designers
Social designers are skilled at imagining possibilities and creating opportunities. However, they often assume they are the experts and jump into idea generation without understanding the systems at play in social justice issues. Without this understanding, social designers can often perpetuate injustice in their ideas and solutions. Conducting empathy interviews provides a deeper understanding of the problem by allowing designers to directly hear from folks who are impacted by the issue and who will have a role in implementing the social change.
Exercises